Screenchangers for blown film extrusion are continuous screen changers recommended for blown film filtration. A two bolt or piston design is usually preferred as shown in the following pictures.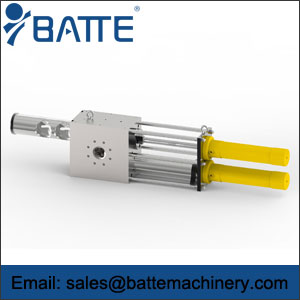 Screenchangers for blown film extrusion details:
The standard two piston screenchanger incorporates two pistons, each containing one filter pack. It is used for continuous filtration. At the inlet, product is divided into two streams. During normal operation each screen pack handles one half of the total flow.
After exiting the filter packs, the two streams, now filtered, are recombined at the outlet. During screen change, one piston moves out of the housing for screen pack removal, blocking the melt stream. After the dirty screen pack is replaced, the off-line piston is moved to a venting position to eliminate process upsets and then returns to the normal position. Automatic controls are highly recommended for the venting and screen change procedure.
Benefit review of continuous screenchangers in blown film:
1. Throughput, viscosity and temperature remain practically constant
2. The screen surface available is regulated so that the pressure can also be kept fairly steady
3. Filtration is continuous
4. Screenchangers and pumps can be combined on one common stand for optimum space efficiency
Screenchanger challenges in blown film extrusion:
1. Continuity does not refer to pressure, speed of flow or viscosity, it refers to the process 2. Care must be taken in the venting process as not to create bubble issues (as in loss of)
Gear pumps in combination with screenchangers for blown film extrusion can produce a number of positive benefits in new blown film lines or as retrofits on existing lines. Gear pumps and screenchangers are used in the blown film industry will be reviewed in detail. Also reviewed will be the benefits of each along with the potential challenges with each piece of equipment.