The simplex systems can be provided with either fixed or removable vessels; a compact preheat station with spare vessel can be provided for locating near the line for quick change out.
They are custom designed to minimize initial pressure drop and maximize filter element life.
Our proprietary sizing program, based on more than 20 years of experience in the field, incorporates your operating data to size each system for maximum performance and optimized flow while maintaining compact dimensions.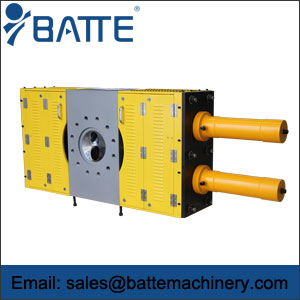 The simplex polymer filtration systems provide large-area filtration for the discontinuous production of polymers at the same filtration level and capacity of duplex systems. However the simplex system has the following advantages:
ƒ Lower cost
ƒ Easier operation
ƒ Less space requirements
ƒ Minimized pressure drop
ƒ Horizontal or vertical design
Discontinuous large area filtration systems
Typical Polymers Handled
ƒABS
ƒEVA
ƒHDPE, HMWPE
ƒPA 6, PA 66
ƒPB
ƒPE, LDPE, LLDPE
ƒPEEK
ƒPET, PBT
ƒPP
ƒPS, HIPS
Cast film extrusion filters
This table shows nominal flow rate figures for standard 3- and 7-element filters using 61 mm (2.413 in.) OD elements.
3-element horizontal design
7-element vertical design
Cast film extrusion
Maag also offers special standard designs for cast film extrusion lines.
These compact units are easily added downstream of the extruder and are available in vertical or horizontal configurations. Typical rates are from 225 to 2,050 kg/hr (500 to 4,500 lb/hr).
Construction
Heating: Vessels can be designed for hot oil or electric heating.
Connections: Inlets and outlets can be constructed to accommodate any existing process connections, such as flanged and quick clamp connections.
Codes: manufactures systems to all major design/construction codes and construction quality certificates and inspections.
Filter elements
Manufactures filter elements in a variety of configurations; we can also design to your requirements. Elements we design are optimized for your filter system with respect to flow and filter area.
Integration with pumps
We can provide a fully integrated package including filter, pump, and controls mounted on a common support.