2017 Bangkok International Plastics and Rubber Exhibition
Show Time: September 20, 2017 - September 23
Organizer: Messe Dusseldorf, Germany
Holding period: every three years
Show Industry: Chemicals / Environment / Energy - Plastics & Rubber
Venue: Asia - Thailand - Bangkok
Held Venue: Thailand Bangkok International Trade and Exhibition Centre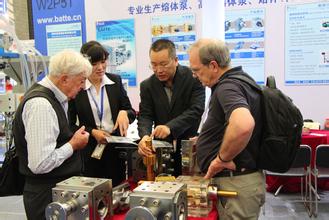 Exhibits
1, plastics and rubber machinery and equipment: pre-processing, recycling machinery and equipment, processing machinery, processing machinery, finishing, decorating, printing & marking machines, welding machines, etc;
2, raw materials and chemical products: adhesives, additives, elastomers, fillers and reinforcing materials, modifiers, reactive resins, rubber and synthetic fibers, pigments and colorants, thermoplastics, thermosetting plastics, other chemical products;
3, measurement, control and test equipment
4, machine tool parts and components: air compressor, screw, roller, cylinder, drum, roller, nozzle, nozzles, heating assembly, scraper blades, pump;
5, plastic packaging area: Plastic packaging machinery and material supply, production of plastic molding machines, bottling machines, labeling machines, packaging materials, pet blowing machine, shrink packaging machines, vacuum machines, packaging machines and other general
Show data
Event Review
Exhibition area: 20,000 square meters
Number of exhibitors: over 200 exhibitors from 20 countries, 93% of the exhibitors reached the market as expected, 91% of the exhibitors during the show generated new orders, international exhibitors accounted for 75%.
Number of visitors: 15,000 people from more than 40 countries, more than 70 percent of the audience at the show to find the desired product, and half of the audience after the show reached a preliminary intent to purchase.
Show Information
Thai Plastic and Rubber Exhibition was organized by the Thai Plastic Industries Association, Federation of Thai Industries Co comprehensive plastics and rubber exhibition by Messe Dusseldorf, Germany. Show not only in the local Thai has a great influence in the promotion of Messe Düsseldorf, this exhibition in Southeast Asia, China and other places have large market. Thus, the young Thai Chinaplas show of its kind and the market occupy the same market share and more profound development potential.
From September 2009, the Bangkok International Exhibition Centre at the same time ushered in Thailand and Thai Chinaplas two international packaging and printing exhibition event in Thailand and Southeast Asia, many plastics, rubber and packaging industry, printing industry manufacturers, traders, dealer to visit the exhibition and negotiations. Scale exhibition and trade outcomes much more than the sum of the previous two exhibitions.
Market analysis
Thailand is a producer and exporter of the world's largest natural rubber, rubber Thailand occupies an important position in the international market. Since 2007, Thailand and the rapid development of bilateral trade, bilateral trade between Thailand and the total $ 15.1 billion in the first half, an increase of 30.7%. Among them, Thailand's imports from China amounted to $ 8.15 billion, an increase of 28.1%.
China as the third largest export market in Thailand, the second largest source of imports, accounting for Thailand and export market share growing. Thai Plastics Industry Association, said Thailand has been to explore other areas of plastics, including multi-layer packaging films and bioplastics, especially in multi-layer films are widely used in food packaging. And that the plastic material from the previous exhibition, plastics additives in local have a good market. Thailand is China oak Chinaplas plastics manufacturers, and its business territory can be a good platform to expand in Thailand. Through participation in this exhibition, we can communicate with each other and many local buyers or visitors from other countries, and actively carry out trade activities.