2017 Toronto International Plastics Industry Exhibition
Show Time: May 16, 2017 - May 18
Holding period: every two years
First held: 1957
Show Industry: Chemicals / Environment / Energy - Plastics & Rubber
Venue: North America - Canada - Toronto
Held Venue: Toronto Convention Centre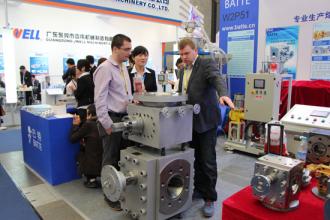 Exhibits
1, plastic machinery and equipment: injection molding, blown film machine, plastic rolling machine, blow molding machine, plastic molding machine, plastic granulator, plastic extrusion machines, presses auxiliary, other plastic machinery, feeding renewable Crusher film drawing machine, foam equipment;
2, packaging machinery and materials: vacuum packaging machine, Hu Heji, bag ,, filling, sealing, sealing, labeling machinery, Binder, balers winding equipment, inkjet printer, printing machine, corrugated honeycomb cardboard equipment, carton machinery, packaging materials;
3, rubber and plastics processing equipment and quality testing equipment;
4, all kinds of plastic film products and plastic and rubber products;
6, rubber processing molds and accessories.
Show data
Event Review
Exhibition area: 9,000 square meters
The number of exhibitors: A total of 547 exhibitors
Number of visitors: over 20,000 visitors visited this exhibition, more than 90 percent of visitors said to have joined the procurement, negotiation and cooperation of the team
Show Information
Canadian International Plastics Industry Exhibition held since 1957, has 59 years of history. Canadian International Plastics Industry Exhibition for up to $ 51.5 billion plastics market offers the perfect threshold and into the development platform. The core of the exhibition due to the plastics industry in Canada, to lead and promote the development of the Canadian plastics industry played a decisive role.
In order to expand the exhibition worldwide influence, October 5, 2009, in Toronto and Los Angeles, while the United States held a press conference to announce the acquisition of the US Canon Communication Corporation has a half-century Canadian Plastics Association's long Canadian plastics industry Exhibition, and jointly develop and promote new cooperation, the Canadian international plastics industry Exhibition will build the world's leading plastics industry event. This event will be the world's leading communications companies worldwide influence and internal resources and industry competitiveness and appeal of the Canadian National Society of Plastics Industry fully utilized, there really is a great win-win initiatives. By then, the plastics industry exhibition and packaging industries, and industrial automation show in three exhibition held in conjunction with, complement each other, the net exhibition area of ​​up to 15 million.
PCG exhibition invites you to participate in this exhibition, and you look forward to develop new markets, gain opportunities together!

Market analysis
Canada is one of the richest countries in the world, is also one of the seven major industrial West and the world's top ten trading nations. In recent years, Sino-Canadian economic and trade relations have greatly developed from a single commodity trade into comprehensive, cross-cutting, diversified trade and economic and technical cooperation, goods, services, persons and capital flows have become increasingly frequent, the two countries deepening economic ties between.
2015 January to September, adding bilateral merchandise trade reached $ 50.26 billion. Among them, Canadian exports to China $ 11.7 billion, accounting for 3.8% of Canada's total exports, increased by 0.1 percentage points; Canadian imports from China $ 38.56 billion, accounting for 12.1% of Canada's total imports, an increase of 0.9 percentage points. 2015 January to September, Canada's trade deficit with China of $ 26.86 billion, as of September, China is Canada's second largest export market and second largest source of imports. Canada is one of the richest countries in the world, with a population of about 35 million, is the world's eight largest economic entity, one of the world's top ten trading nations, the economy is highly international.