The melt pump is a positive displacement conveying equipment, high precision gear clearance and displacement of structure design, stable and balanced extrusion, made possible by the, in the chemical fiber, granulation, plastic film, sheet, plate, profiles, pipes, wire and cable, wire drawing, composite extrusion production line.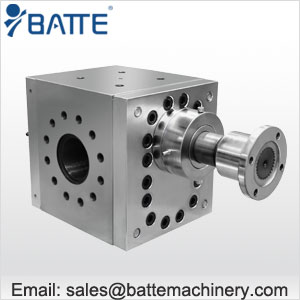 Special plastic extruder melt gear pump
To widely used, good results have been achieved:
1. Can realize the stable extrusion, improve the product dimensional accuracy, reduce scrap rate. In extrusion process, the material and capacity is uneven, machine barrel, and the nose temperature fluctuations, the screw rotation speed pulsation phenomenon is inevitable. Using melt gear pump can eliminate system error of feeding, can greatly abate the upstream volatility of technology transfer, quickly into the stable working status, improve the product dimensional accuracy, reduce scrap rate.
2. To increase production, reduce energy consumption, low temperature extrusion, prolonging the life of the machine. Due to polymer melt pump extruder installed, put on the reducing function is transferred to the gear pump extruder, the extruding machine can work under low pressure low temperature condition, leakage flow rate reduce greatly, increase production.
Than gear pump extruder are more likely to effectively create head pressure, and can reduce the back pressure of extruder, the screw on the axial force drops, prolong service life.
3. The linear extrusion characteristics, facilitate upstream or downstream equipment coordination. Due to the gear pump leakage flow rate is less, the transmission capacity of the pump and rotating speed and a linear relationship with basic gear pump speed change, its flow can exactly know, due to the upstream or downstream equipment and gear pump can be determined
Work speed, the use of the gear pump inlet and outlet to collect the information such as the pressure and temperature data, realize the whole extrusion process on-line monitoring and feedback control.
4. The company is a professional production and sales of the melt pump, high temperature melt pump, melt gear pump, melt metering pump and precision control system (PLC) and the like. Control system adopts Siemens PLC programmable control mode, equipped with advanced man-machine interface, can the pressure, temperature,
Flowrate, rotational speed of a full range of easy switching control, automatic and manual control function, control system can be a very good eliminate various factors cause the pressure fluctuation of extruder, stable discharge port pressure, maximum full play advantage in precision extruding melt pump.